I beat Portal 2! I'm pretty sure I forgot to write in here that I even bought it, lol. BUT YES, PORTAL. I really enjoyed it, though some parts much more than others. Like the rest of the internet I love Wheatley <3 GLaDOS I loved in the beginning, but towards the end I got a little tired of her. Plus there was one important plot issue I wasn't so keen on.
( And it is a spoiler )
So in the end it was a fun game, and I still have the multiplayer to get through.
I also finally watched The Experiment with Adrien Brody and Forest Whitaker! I had read a review saying it sucked, so I was pleasantly surprised that it did not. I wouldn't necessarily say it was great, but it's hard not to appreciate Adrien Brody's performance no matter what he's in. I think he should be like Travis all the time! He was just so RIPPED, and ragged, and easy-going, and vulnerable, and NUTS. With his shaved head and his whiskers and his tats it was just like Mmmmmmmmm. Prepare for gifs.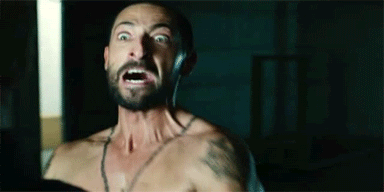 RAWWWWWWWRRRRRRR PUNCH THAT ASSHOLE!!!
Dear Adrien Brody: Please don't lose your muscles.
Love: Croik.